I've made a lot of things since November and I haven't had professional pictures taken of any of them or posted any updates.
As luck would have it you can see many of them live and in person at the Seaba Gallery on Pine Street in Burlington.  The show runs April 6th – 27th and has the art of Alex Dostie, Kristen L'Esperance, Michael Heeney, Isaac Wasuck, Daniel Koopman and Brooke Monte.  Here is the Flyer:
The show has a few new pieces for me. Here are some near ok iphone pics:
2 mouse skull rings on a mandrel. They both have their own boxes.  One is made from a copper printing plate with an apothecary bottle bottom as a lens looking in.  It is not pictured but is at the show.  The other rests in an oak box: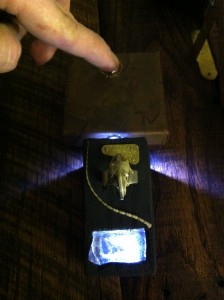 It's called "a silly little mouse has been born"  The glass in the box is also from an apothecary bottle.  If you set it on a window sill the light will shine in from the back and out the front illuminating the remainder of the bones inside.  The tail wraps around the front.   The light box behind is made to simulate the sun for display purposes.
This is also hanging on the wall at the show.  It's called "A Good Indignation Brings Out All Ones Powers"  It is silver, mica and copper.  Here it's shown in front of a piece of oak.  At the show it is hanging in its own frame made out of oak, cedar and wenge wood.   Much like this piece: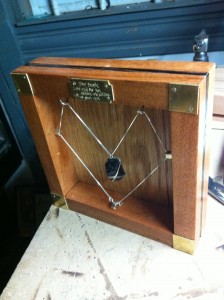 This is a piece of green/black tourmaline (it fades) hanging in the shape of a heart.  It was a gift for Christmas.  Here is a close up of the stone: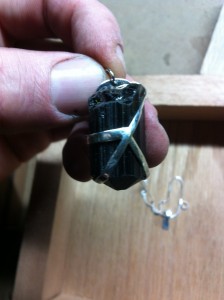 I also made a dressing stand for the show out of pallets.  It's got brass corners and a tilting mirror in the center with a brass mount.  The drawer pulls through from both sides and is red satin lined.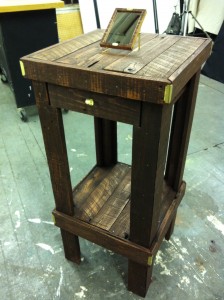 Here it is at the show displaying the pieces. There is a life size cut out of myself there. All the artists have life size cut outs.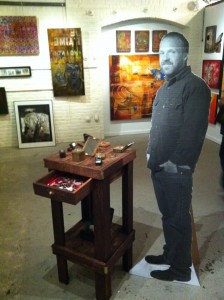 As a final part of the show Cameo Harlot played.  Music is a big piece of the box art studio.  We have always had loud rock bands play at the studio.  My own included.  Here is a pic of them closing out the show: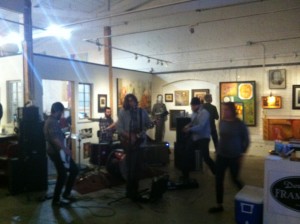 These are the updates for now.  More to come…